City of David

collage
A city of digital footprints around David at the Uffizi Gallery.
Prompt: A city of emergent conditions.
//City excursions
Following the prompt, I took three excursions, to Not Just Library, to the Taiwan Annual Exhibition, and to a virtual tour of the Uffizi Gallery on Google. Looking at those
places as cities,
and observe what had been designed there.
This was at Not Just Library, an artbook library that had a public bathtub inside!
I took pictures of a book from each shelf at my eye-level.
By reading books and also sitting at different heights, I am imagining a topographic map
of a city based on its social hierarchies and how people look at things.
This was at the Taiwan Annual Exhibition at Flora Expo Park.
I tried to capture the backs and bottoms of artworks
The open space is divided into blocks of topics
and interestingly directly expose production material such as cables
The usually unwanted parts are exposed.
Do they represent the space like the artworks?
It is a combination of expected and unexpected values.
I am taking so many weird photos for this assignment,
but I am also immersed in the space for seeing.
People are performing their own weirdness,
just like how we are doing individual things in a collective city
This was at the virtual tour of Uffizi Gallery on Google.
Almost ten years after I physically visited there.
The 360 photos have this blurry joint where they cut off the camera.
It seems to be the only sign of humans there.
If the future is a fully digital world,
Would human have digital prints instead of footprints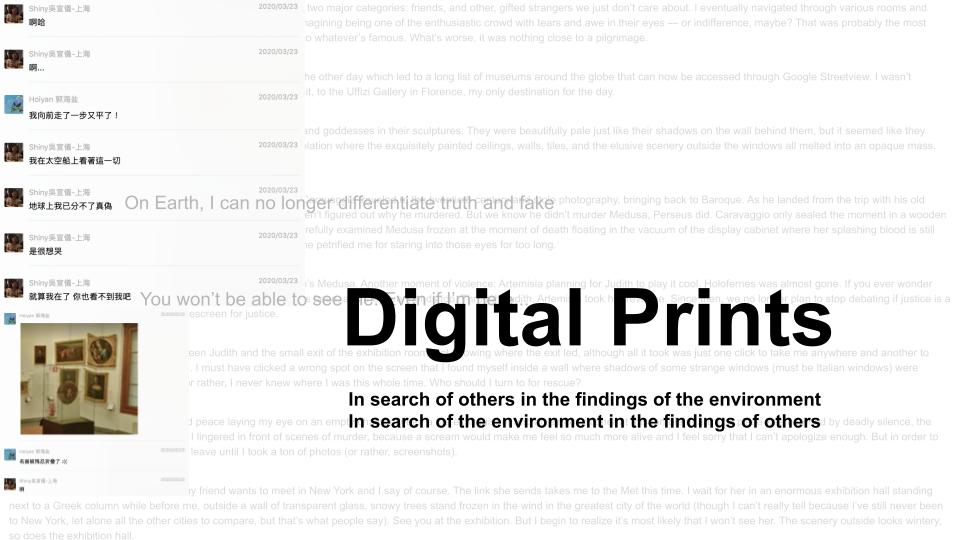 One time I even invited my friend
We were trying to find each other while we knew we couldn't
The emotions went into
pieces of writing, translations, and collages of message screenshots
.
We saw no one but the digital prints. So we create our own existence.
//City collections
Somehow, the materials collected during excursions were already a set of collections. But to further look into the design choices made, I virtually visited the same places on three different Google sites to compare between.
Turns out, the blurred spots were consistent throughout different Google services.
I see those blurred spots as digital footprints
(since it often physically appears right below the 360 camera)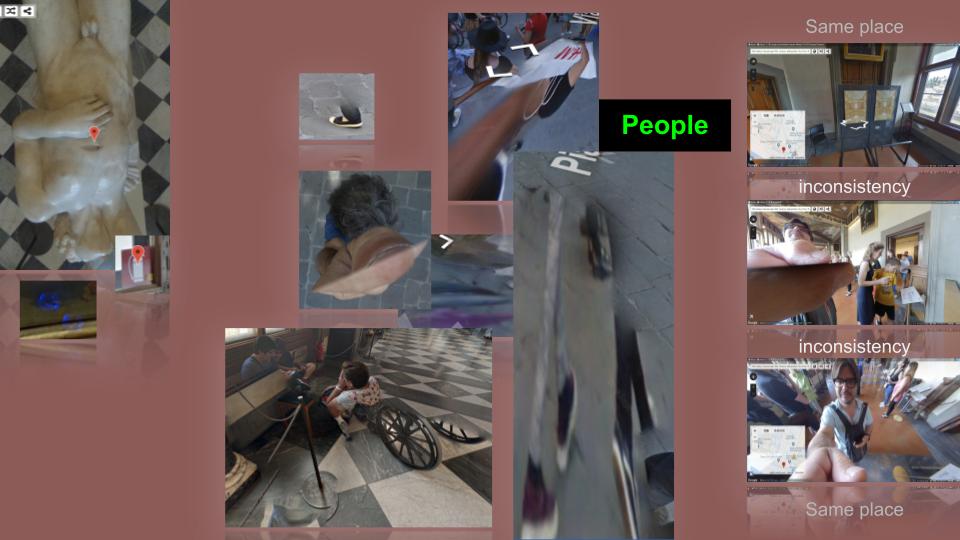 Interestingly, with StreetView and Earth, I do find new people when I change to a certain viewing angle
but they are very inconsistent at a same place
this has me question
what if in the future we don't actually live in cities, but live a city life virtually
leaving visible digital footprints everywhere that is inconsistent
Taking a step back, do we want personal living data to be consistent as public information in a city?
Also, is this criteria mostly visual-based?
what about putting personal representation of the other senses as publicly accessible data too
are our standards for visuals higher than those of other senses?
I also collected the back of the family photo frames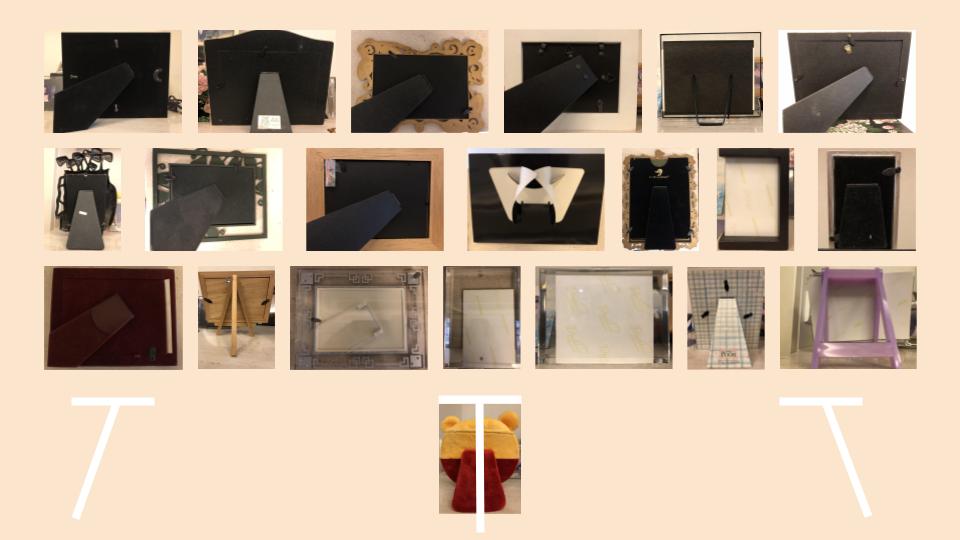 combined with the previous concept of shooting the back of artworks at an exhibition
I wanted to see if the logic of showing the unseen parts
Could also apply to intimate settings
The process just brings up more questions:
Do family photos also need privacy like the face-blurring technology in Streetview
What is a new digital frame that we can store and present information/memory in a public space
What is the backbone structure that frame our experiences and supports our identity
And how do these design connect to the designs of a city?
//City Drawings
Finally, speculating a city from those collections.
City of dis-play-ful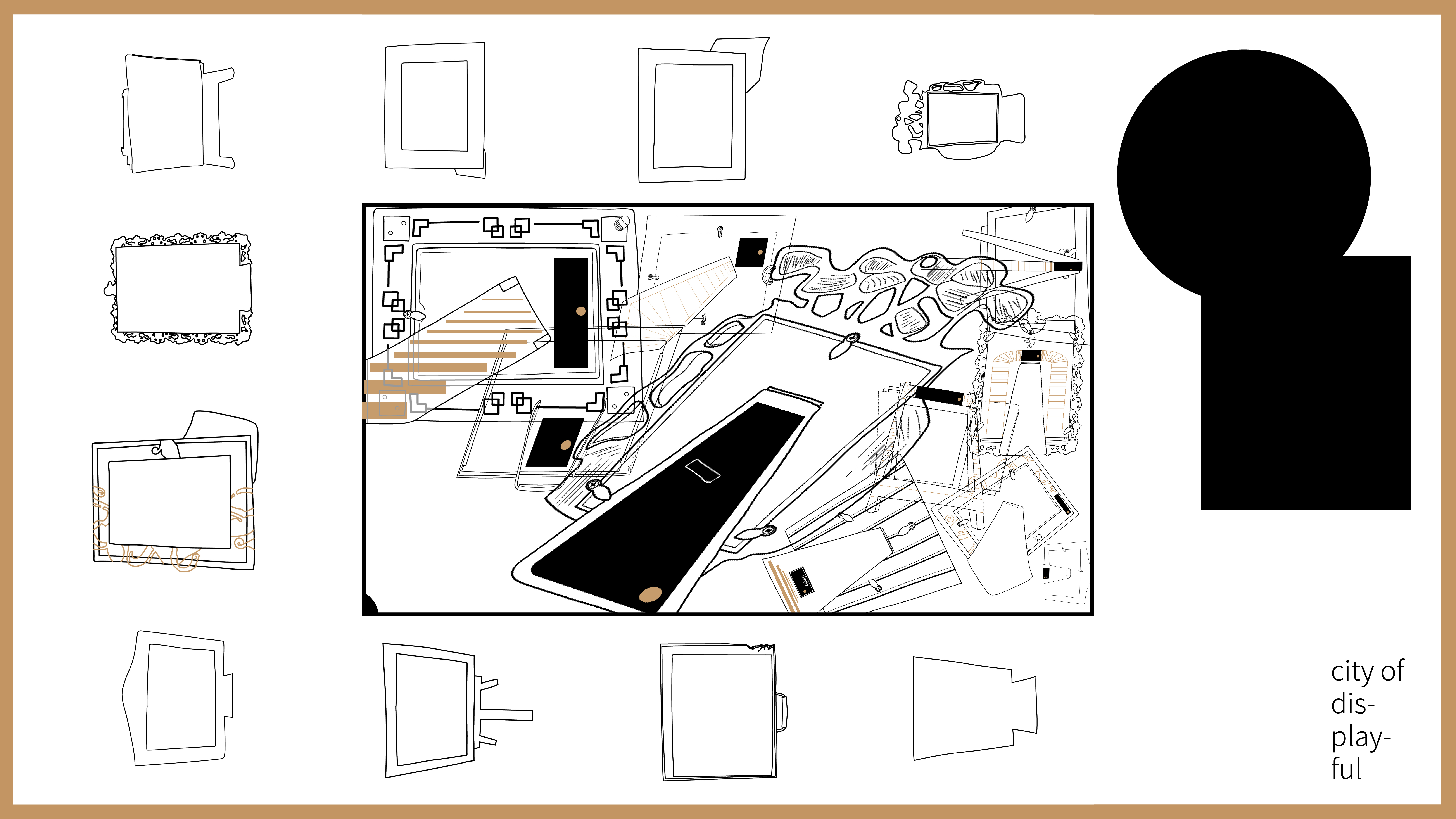 I took the collections of photo frames and edited them into houses with doors.
Wealthier families got fancier photos frames as buildings.
Different positions see things differently, as you can see, the quarter circle at the bottom-left of the black frame is a person, and that person see things in an opposite and chaotic way.
This layout of this city also considered the issues of privacy under super surveillance,
and the live-stream culture nowadays.

City of David

first utilizes...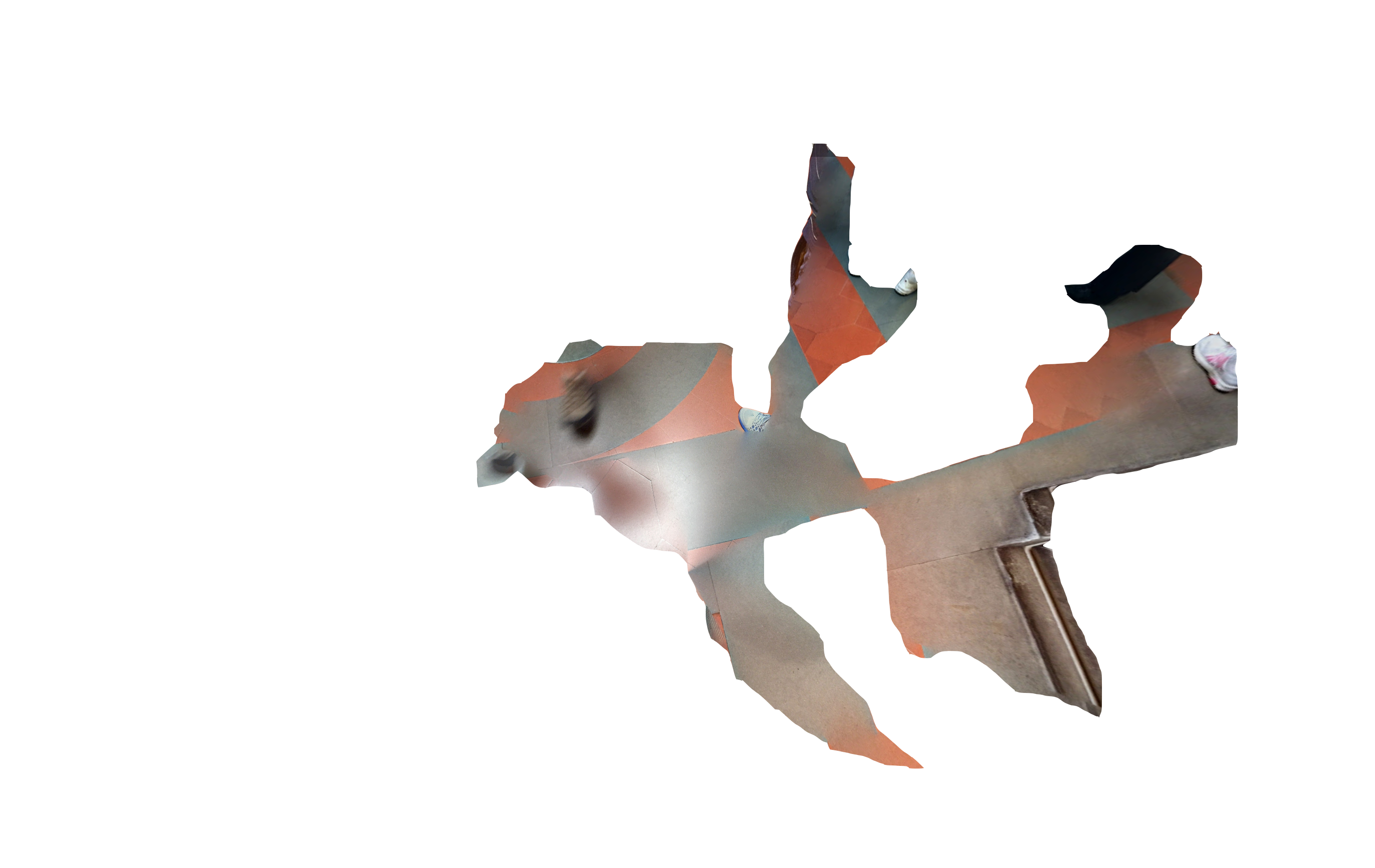 Those shapes were my cutouts of the blurred spots from screenshots all linked together.

and view David as the landmark of this city of virtual space,
surrounded by an unorganized mess of digital footprints.
I incorporated the navigation arrow on the Google services as the
"new nature"
of the City of David.
City of Polite Privacy
This city contemplates on the automatically implemented face-blur tech on certain sites.
And it involves both living and non-living figures.
(Are we living or non-living online?)
continue